~ Thornberry Stables ARCHIVE ~

Thornberry has had many great memories and stories to tell.
Here, we will share some of them with you...
| | |
| --- | --- |
| "Look at Blitz go!" | |
Our lives were touched with greatness when Julio Ledesma, a native of Brazil, came to us in 2003. He is the ideal when it comes to a trainer and friend. When we witnessed his excellent training skills with our beloved horse, Blitz, we quickly realized that he is one of the best!
Julio turned Blitz from a horse that could not be ridden into a show jumping horse within one summer! Originally, Blitz lived at an abusive home and was very neglected emotionally and physically. We took him in and nursed his health and spirit, gave him the best trainer around and he performed beautifully! Just goes to show you that with the right environment, every horse can be rehabilitated.

He has worked with many great Olympic riders in Brazil including Rodrigo Pessoa (founder of Pessoa Saddlery). Julio has since been running his own successful stable business in Orlando, Florida.

We will always remember his professionalism, sense of humor, kind heart and caring manner with horses. Occasionally he comes to visit, so if your lucky and happen to be around the barn at the same time, you'll get the chance to meet him!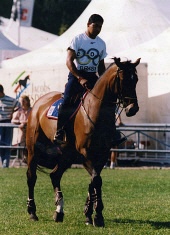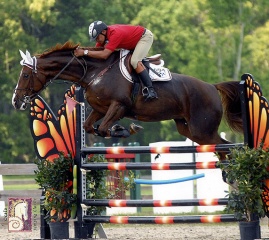 Julio riding Calei Joter in Brazil & show jumping in Florida
Julio on our "Digger".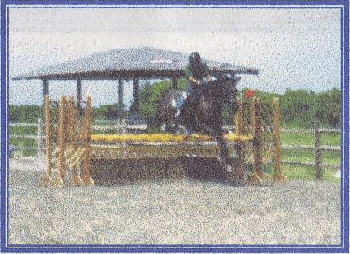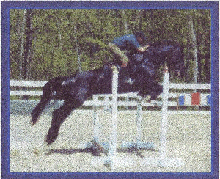 More pictures of Julio...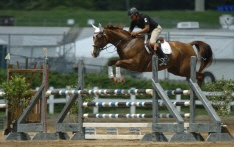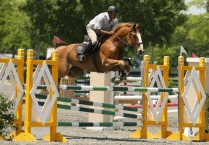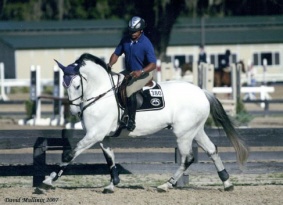 ---

In 2005, we had one of the great green and gold upon us...known as "KGB" of the Green Bay Packers! He was lots of fun and a gentleman too. One classy person indeed! "Kabeer, we enjoyed your every visit and watching you ride our horse Buddy. Visit us again anytime!!"

Here is some of the pictures with Kabeer riding "Buddy" taken from the Packers website
(click to see actual page) www.packers.com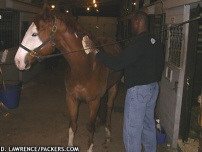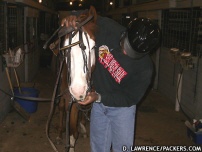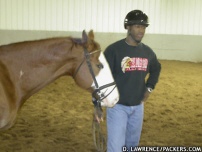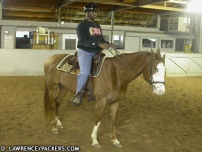 by Dave Lawrence, Packers.com
posted 03/18/2005

Just call him Cowboy Kabeer...
Don't fret Packers fans - the stud defensive end hasn't been traded to Dallas. Kabeer Gbaja-Biamila has been working this offseason to develop skills as a real cowboy by taking up horseback riding. Gbaja-Biamila says he's always been fascinated by equines and is using his downtime in the offseason to become a proficient horseman.

"I always wanted to ride horses when I was a kid, but you can't really do that in Los Angeles," he said. "Now I live near some stables, so I thought this was a good opportunity." Although the lessons that he has been taking with his wife, Eileen, are not the first time Kabeer has ridden a horse, they are his first training sessions.

"I've ridden before but never had proper training," he said. "If somebody I was visiting had a horse, I just jumped on it and started riding. But here I'm actually paying to get the proper training and learn the proper techniques of how to control the horse and how to take care of it from riding it to cleaning up after it."

While some might be concerned for the lineman's safety while riding, KGB is certain he's safer at the stables than on the football field. "Playing football is more dangerous than riding horses," said Gbaja-Biamila. "Is it a risk? Yeah, but you have a trainer. I'm still at the walk, trot, and canter - slow canter. I'd like to go a little bit faster, but my trainer always stops me from going too fast."

Gbaja-Biamila has formed a good working relationship with one horse in particular at the stable. "My horse's name is Buddy," he said. "I've been riding Buddy a lot but they're going to change it up because every horse is different. Right now when I get on Buddy, I know what I'm getting so my trainer is trying to get me to ride another horse so I can see the differences in the horses." As comfortable as Gbaja-Biamila is getting with his hobby, he's not going to be entering any competitions and performing jumps or anything like that.

"I want to do more Western style things, just for leisure," he said. I'd like to ride on a farm or wherever." Riding horses hasn't been the only new thing Gbaja-Biamila has been learning over the offseason, though. He's also been working to learn the new defense that will be installed for 2005 by defensive coordinator Jim Bates...

...While he's excited to get into the new defense, KGB will have to cut back on his horse hobby as the team's offseason program gets underway. "I was riding almost every day earlier in the offseason," he said. "Now I'm going to be riding on my own and only have the trainer about once a week." Soon enough, he'll have to trade in his saddle for shoulder pads and settle for riding offensive tackles into the backfield as he hunts down quarterbacks.
---
Thornberry has been in the Green Bay Press Gazette, too!
Here are some pictures...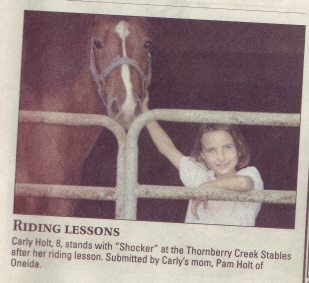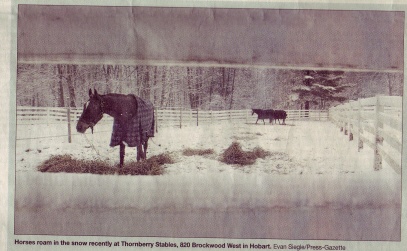 Our jumping course.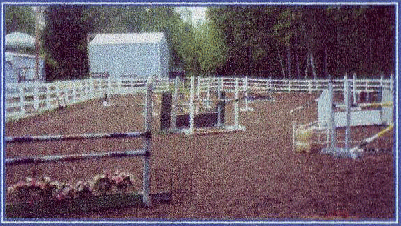 "Buddy"